Celebrity Style Bite: "How to Transform a Basic Look into Glamour!"
By contributing writer Anita F. Hill
Hello again…..it's me again and I'm back, with the 2nd edition of Celebrity Style Bite. For those of you who may not know how this works, it's when I search for sightings of fashionable celebrities, and I let you know how you can affordably create this look……..Are you ready?…..Let's Go!!!
..............And the WINNER for Celebrity Style Bite is…………..
Miss Hilary Duff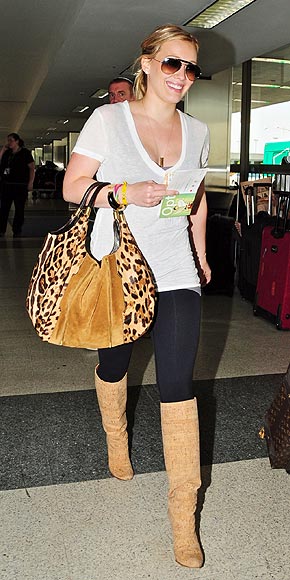 Hillary was spotted at the Los Angeles LAX airport wearing a basic white tee and black leggings, along with SUPERCHIC accessories, with what appears to be a gorgeous Jimmy Choo leopard handbag, priced at $2200
(ON SALE!), along with a highly trendy pair of tan suede over- the -knee boots. I just LOVE the way she instantly turned this otherwise basic outfit into a fashionable piece of celebrity glamour! That was genius!!!
Now, how can you achieve this look?.... Well look no further.
I found the cutest leopard print bag at carolwrightgifts.com on sale for only $14.99 and these HOT tan suede over –the- knee boots at Bakers for $99.00. Pair these up with a $5.00 basic white tee and a pair of $10.00
leggings and you look like a few thousands of bucks! WOW!
Well, I hope you enjoyed this edition of Celebrity Style Bite.........Until next time, stay GLAMOROUS, Au Revoir!