"Fall Fashion Must-Haves 2009"
by contributing writer Anita F. Hill

It's been awhile, but I'm back ….and armed with some dangerously stylish fashion must-haves for Fall 2009!!!!
First, we will be begin with my personal favorite……..
SHOES, of course!
Whether you're wearing a shoe bootie or sexy stiletto pump, this season we will be walking on a platform.
The contemporary hidden platform is available in all different colors, shades, and fabrics, equipped with all sorts of fancy embellishments…… anywhere from zippers, sexy studs, and Swarovski-crystals, even!!!
Another must-have this season, when it comes to "foot- apparel,"
is the Over- the-Knee boot.
They come dressy, casual, suede, leather, and most of all sexy!
This is number one on my fall fashion shopping list, I can't wait to get my first pair.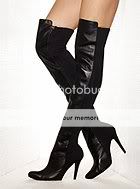 Ok…..Moving On….When it comes to "body-apparel," just think: sexy, chic and rock and roll.
First, we'll start with dresses, this season we're transforming from last summer's long, sleek, maxi dress, and we're "bringing our sexy back" with the edgy little black dress.
You will see short full leather dresses, one sleeve dresses, or no sleeves at all dresses.
Now, when it comes to bottoms,
An
ABSOLUTE
must have this season….. is a pair of leather pants, or for us divas on a budget (like myself), a pair of very fashionable and convincing "leather-looking" pants.
Another must have fall fashion bottom, are a pair (or couple pair) of funky leggings. No ladies….. leggings have not gone anywhere just yet. This season, we can transition into fall with a pair of latex-look leggings or sparkly and shiny leggings, such as the style that Alicia Keys, so graciously wore on the VMA's (I love Alicia's style.)
Last, but not least, a very fashionable way to pay homage to the greatest entertainer that ever lived (MJ R.I.P.), a Thriller-inspired motorcycle jacket would be most appropriate.


Well, ladies, I hope these tips have been helpful for you, but I've got an urgent appointment at the mall!
Until, next time……….
Stay Fierce and Fabulous!!! Smooches!